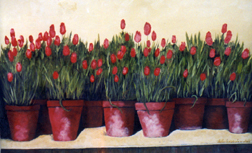 Helen Hemetek
"Artist of the Month"
Welcome to our Member's Online Gallery!
The West Virginia Art & Craft Guild is proud to showcase our finest traditional and contemporary handmade artwork in the Member's OnLine Gallery.
See artwork photos in the Member's OnLine Gallery pages: [1] [2]
Use the search box below to find specific art/craft work and contact information by typing media, keywords or artist name.
We hope you will enjoy your visit and will stop back often to see our newest works!